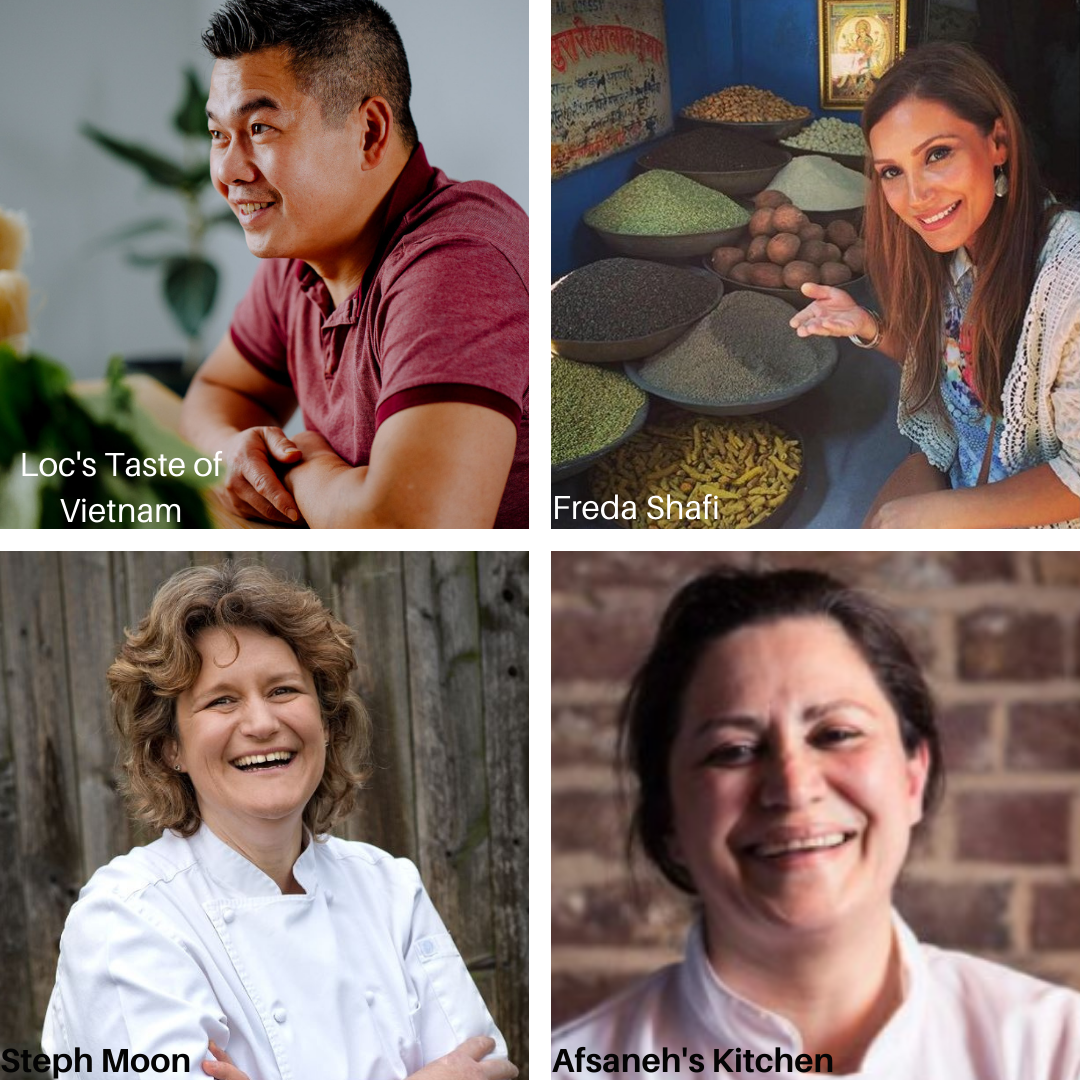 We are excited to announce that we will be working with some fantastic Chefs this year. Each Chef will host their own class at Leeds Cookery School where they will teach their speciality dishes and share their culinary knowledge in their areas of expertise.
Freda Shafi
Freda is an award winning food influencer, enthusiast, artist and company owner. She set up her company Spice it up over 6 years ago and has worked with local and national brands as a chef and recipe developer. Freda is also famous for her supper clubs and chefs tables where she showcases modern and traditional Indian cuisine. You can join Freda in her Indian Street Food class where she will teach you how to make baked samosas and more.
Find out more about the class - Freda's Indian Street Food
Loc's Taste of Vietnam
Loc was born in Saigon, Vietnam where he was introduced to the joy of cooking by his grandparents when he was just 5 years old. From that young age he was taught how to pick out fresh ingredients from the market and cook traditional Vietnamese dishes which the family enjoyed together. Loc adopted the principles he was taught as a child into his food philosophy - always cook with the freshest ingredients, keep things simple and spend quality time with family. In Loc's masterclass he will teach you how to cook some traditional Vietnamese cuisine. 
Find out more about the class - Loc's Taste of Vietnam Masterclass
Afsaneh Kaviani
Afsaneh is a Leeds based Iranian chef who is a big advocate of "Persian food the way it's served at home". Afsaneh runs her own business called Afsaneh's Kitchen and regularly holds supper clubs where she makes Persian home cooked cuisine. Eagle eyed Master Chef fans will recognise Afsaneh as she got to the finals in 2012. 
Learn how to cook a Persian feast in Afsaneh's Persian Kitchen class. 
Find out more about the class - Afsaneh's Persian Kitchen
Steph Moon
Steph Moon is a highly successful professional chef based in Yorkshire and is a champion for local produce and seasonal cooking. Her career highlights include being the Executive Chef of a 2 Rosette restaurant at Rudding Park Hotel, appearing on the Great British Menu as a contestant and getting to the judges chambers and winning the bronze medal at the British Culinary Federation 2010 final. Join Steph in her Spring masterclass where she will teach how to cook seasonal fish and produce to perfection. 
Find out more about the class - Steph Moon's Spring Masterclass
---